Social Media Management
Your Account. We Can Handle It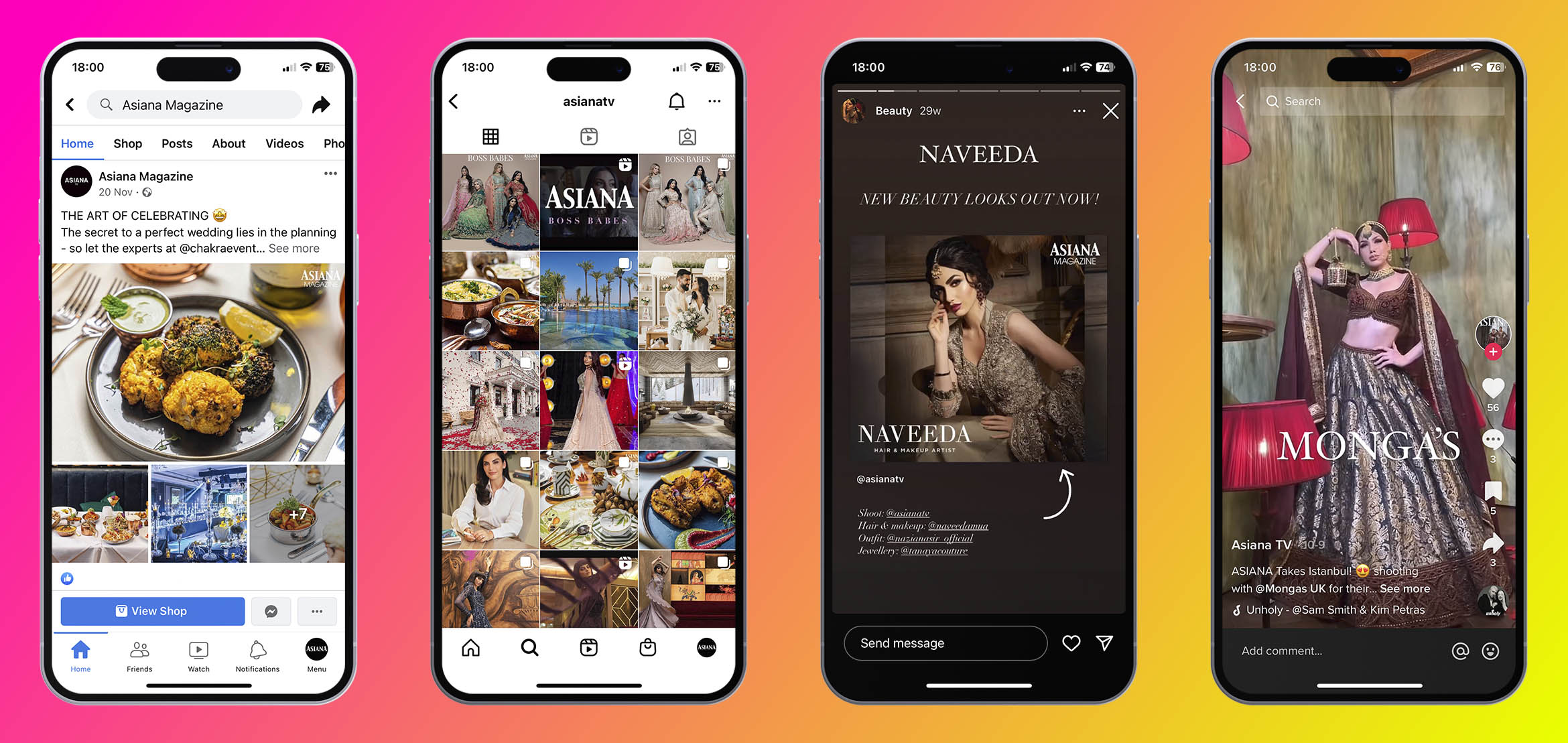 Your Social Media Account is essential for your brand.
Let Asiana take care of it – so you can run the rest of your business.
Creating content, designing artwork, editing videos, writing and posting regularly takes up a lot of time and requires discipline and expertise.
That's where Asiana can help.
We have over 10 years of experience in professional social media management – with Asiana's own platforms generating over 1 million views per month across Facebook, Instagram and TikTok.
Your Strategy
With our Social Media Management packages, we will review your current social media activity and develop a new strategy to grow followers, increase brand awareness, promote products/services, and convert posts into actual sales.
Account Update
The design and layout of your social media accounts may require updating, such as organising your Instagram and Facebook profiles to include sections and action buttons.
New Platforms + Formats
We may add new platforms that you are currently not using – such as TikTok – and make better use of updated formats such as Instagram Reels.
Social Calendar
We will create your own personalised Social Media Calendar, so your posts are planned properly and we can link what's happening in your business such as seasonal offers and promotions.
Trend Alerts
We keep your account on top of trends and build up your followers with engaging, relevant posts that keep them interested in your brand and lead to actual sales and bookings.
Account Manager
The Asiana Social Media Team includes your own Account Manager, so you will always have a direct point of contact that knows your business and can turn your own ideas into smart activity.
Your Account Manager will design, write and post content 3/4 times a week using existing pictures or video clips.
Your posts will be uploaded to Facebook, Instagram and TikTok and have a strong call to action to encourage engagement and conversions.
We will edit photos and videos as required, adding music, headlines and banners to create professional content for your brand.
The posts will be uploaded at the correct times to maximise the audience's reach.
We can also Boost or Promote individual posts for you based on your budget requirements.
We can create approximately 20 posts per month, using photo and video formats such as TikTok and Reels, featuring your products and services.
Depending on your requirement and budget, we can organise studio/location/in-store fashion shoots with models, makeup artists, stylists etc.
We can also create collaboration shoots with influencers and other brands working together, such as Fashion Brand + MUA or Fashion Brand + Jewellery Brand.
Use Asiana's social media platforms (300k+ Followers) to reach a new audience and grow your own fans. A monthly campaign with 4 x Sponsored Posts will promote your business with a mix of engaging photo posts and videos on Instagram, Facebook and TikTok. Each post is targeted to reach the widest, most relevant audience for your brand – leading to more engagement, more followers and more enquiries.